Discover our magical collections:
of handmade inspirational jewellery, and limited editions of clothes
We design with passion and a mission: Each piece captures  emotions of a deep longing to bring more magic into a world that so often lacks the spiritual dimension. Magic that empowers us to sparkle and truly wear and share the beautiful, godgiven light and talents we all carry within – our charisma..   CHARISMAGICA!

"Each piece in our collection has a known origin and carries within the story of other human beings who are working under fair conditions and are known in person."
Join me and feel the magical stories that are woven into design, texture and shape of this collection.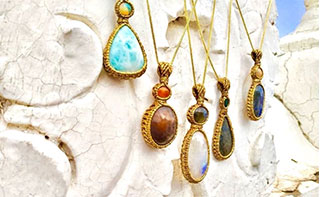 COMING SOON!
We will open soon! Stay tuned and get a message when we open.